Ho-ho-ommmm!    Spread some holiday cheer with these unique yoga Christmas / Holiday greeting cards and ornaments.  Here are a few fun designs that I think are especially pleasing. These cute and creative cards and ornaments are sure to bring a smile during this holiday season to anyone who practices yoga.
Yoga Christmas / Holiday Cards
Santa and Friends Do Yoga
&
This first one is my favorite yoga Christmas card, which I have sent out the last two years to many of my friends during the holidays.  The inside says "May the spirit of the season move you."  You can choose as a greeting card or a note card, with a small discount if you buy in bulk.
This whimsical design shows Rudolph the Red-Nosed Reindeer in a very nice Virabhadrasana II (Warrior 2), a lean Mrs. Claus is doing the core-strengthening Paripurna Navasana (Full Boat Pose), and a fit Santa is strong in Vasisthasana (Side-Plank).   This is how they all keep from getting too stressed out during their holiday season (that's a hint for you too – practice your yoga during the stressful times in your life!).
Snowman Sitting in a Meditative Pose
Here is another cute Christmas / Holiday card with a yoga or meditation theme.  This serene snowman is wearing a colorful Scandinavian-style vest and hat while sitting in a meditative pose (meditation is another great way to reduce stress during the holidays!).   You can buy this as a single card or in multiples, with a discount when you buy 10 or more cards.
Lovely Ahimsa Christmas / Holiday Card
I love this beautiful and elegant design that represents the peace we wish towards all beings during the Christmas season and throughout the year.   "Ahimsa" is the Sanskrit word for "non-violence" or "do no harm", and it belongs at the core of our yoga practice, both on the mat and in our everyday lives.  It's a very fitting concept that meshes perfectly with the "Peace on Earth, Good Will Toward All" sentiment that is often expressed during the holiday season.
More Yoga-Themed Holiday and Christmas Cards
Here are three more designs from Zazzle that I especially liked.   The first is a serene image of a snowy scene with the word "Ahimsa", which means "Non-violence" or "Peace".  Quite appropriate for the season and for the whole year!  The second is a whimsical representation of Santa in his workshop doing yoga with his elves.  The third is a cute image of a young woman doing a peaceful Warrior Pose.
You can browse through more Yoga Holiday and Christmas Cards on Zazzle
Ahimsa Holiday Reindeer Postcard
Santa's Yoga Workshop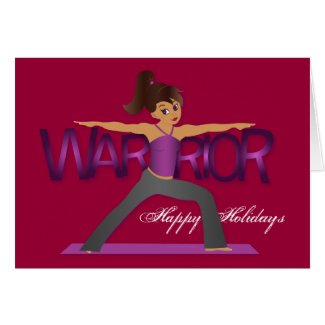 Holiday Yoga Warrior Girl
&
Amazon has some fun yoga Christmas / holiday themed cards too.  The "Santa Needs Yoga" card has the inscription on the inside, "Ohm, Ohm, Ohm, Merry Christmas!).   Then there are the quirky assorted Cow Yoga Christmas cards, similar to the Cow Yoga Calendar.
Santa Needs Yoga
Assorted Cow Yoga Christmas Cards
&
Yoga Christmas / Holiday Ornaments
Along with unique yoga Christmas / holiday cards, Zazzle has a number of very pretty ceramic yoga ornaments.  The three shown here are my favorites for this year:  the pleasing heart-shaped ornament with a few artfully-placed line drawing poses, the serene lotus pose and "Namaste" ornament, and the graceful-looking Raja Kapotasana (King Pigeon Pose) drawing.
Yoga Heart Ornament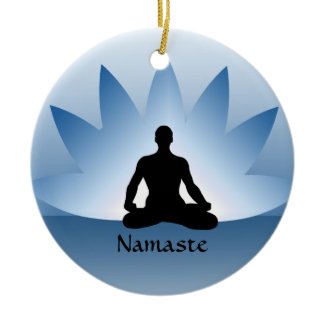 Namaste Ornament
King Pigeon Pose Ornament
&
Here are a few more appealing yoga ornaments to hang from your Christmas or Holiday tree. The first one is of a woman on her mat doing the graceful but very difficult Natarajasana (Lord of the Dance Pose).  The pretty silver-looking metal "Om" design will make your tree sparkle.  And then there's my favorite – the adorable Santa in Tree Pose (Christmas Tree Pose?).
These ornaments, as shown on Amazon, often sell out.  I will try to keep this section updated for you with new ornaments as I find them!
Lord of the Dance Pose
"Om" Metal Ornament
Hallmark Santa Yoga Ornament
&
Thank You For Looking Through These Yoga Christmas Card and Ornament Designs!
I hope you found something you liked on this page!   I bet your yoga friends would enjoy receiving one of these cards from you, or an ornament as a small gift during the holiday season.
Namaste (I honor the divine within you)!